When using high-throughput sequencing to detect mutations in a genome, scientists typically focus on point mutations, those affecting a single or small number of nucleotides at once. While point mutations are the most frequent type of mutation, larger mutations called "structural variants" can have a much larger affect on a cell, and in fact make up a majority of the bases that differ between any two individuals.
Compared with point mutations, detection of structural variants is much more difficult for this simple reason: a structural variant can connect any location in the genome to any other location in the genome, so the potential search space is enormous. I have developed new methods to detect and characterize structural variants using long-fragment "read cloud" sequencing data. My new methods are implemented as a package called GROC-SVs (github) for the Genome-Wide Reconstruction of Complex Structural Variants. GROC-SVs demonstrates that long-fragment information, when analyzed correctly, can dramatically improve both our sensitivity and specificity for detecting structural variants.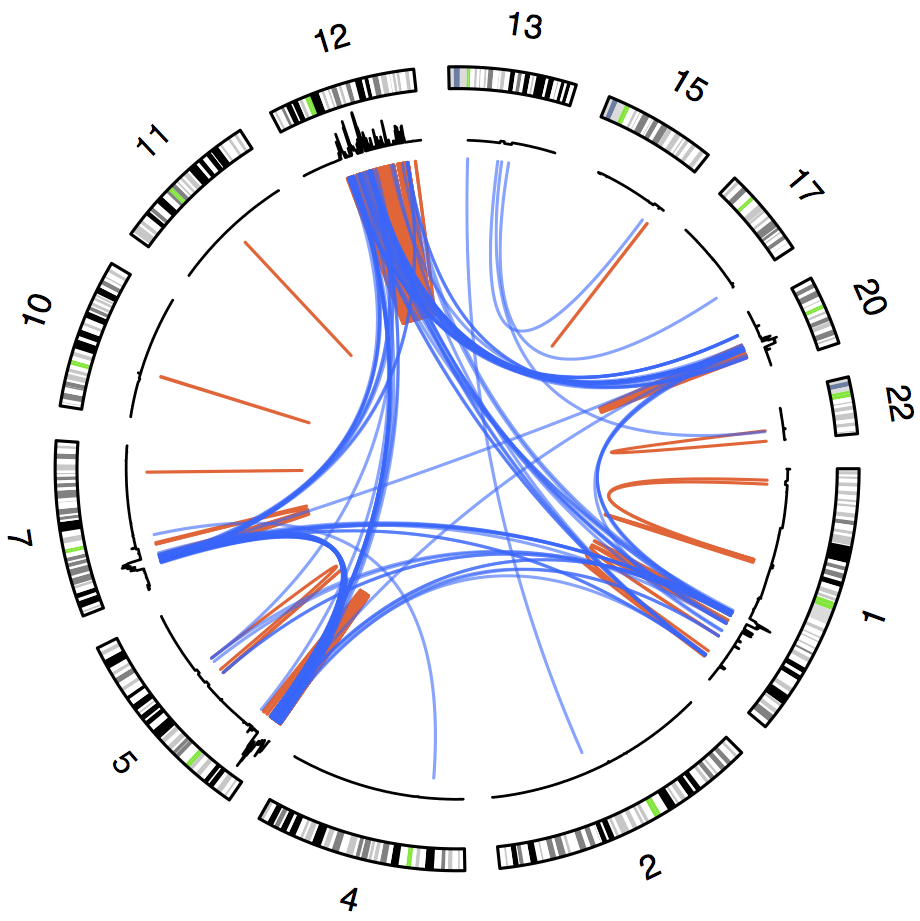 To demonstrate the usefulness of these methods, I collected, sequenced and analyzed the genome of a liposarcoma (a type of soft-tissue tumor). I found 500 structural variants resulting in a massive rearrangement of the tumor genome (see the image). A large proportion of these events occurred as part of a chromothripsis event, involving the shattering and random reassembly of chromosome 12. Because the long fragments from this tumor often span multiple breakpoints, I was able to use GROC-SVs to reconstruct the order of much of this complex structural variation directly and automatically from the sequencing data.
In addition, I sampled 7 different sites from within this liposarcoma, allowing inference into the evolutionary history of the structural variation within the genome (see below as well). From the resulting evolutionary tree, it was possible to infer that the majority of structural variation occurred in an early burst of genome instability, resulting in 400 structural variants that pre-date the major growth of this tumor. Then, the genome found a new stable point which it maintained for significant evolutionary time with practically no additional subclonal structural variation. This is one of our first direct observations of the evolution of substantial structural variation within a tumor, and demonstrates a tumor genome can be remarkably stable even though it shows little resemblance to the normal human genome.